A TRUE STORY OF
AN ORDINARY FAMILY
IN EXTRAORDINARY TIMES
A woman and three of her American-born children return to her ancestral homeland of Greece. Unable to flee before the outbreak of WWII and the German occupation of the country, one child's love for a trapped British soldier leads them into active involvement in the Athens Underground. Their capture leads to years of struggle to survive the brutality, prisons and camps of the Nazi regime. This is my family's story.
Author at 15 years old
MY LIFE
ME IN SUBURBIA
1949 to1965

My life until I was 16 was that of an average American boy living in the 50's and 60s in Pittsburgh, Pennsylvania. Dad was an accountant and Mom was a housewife. We were just about the same 'normal' as everyone else in the neighborhood. But there was a point at 16 when everything I thought I knew about WHO my mother and grandmother were changed dramatically. At 16 you could never imagine that the two closest women in your life could be anything but what you saw day to day. Most people in that time period were like that. Yet my mother and her mother, I would come to discover, had a heroic past during World War II.
Ken Spillias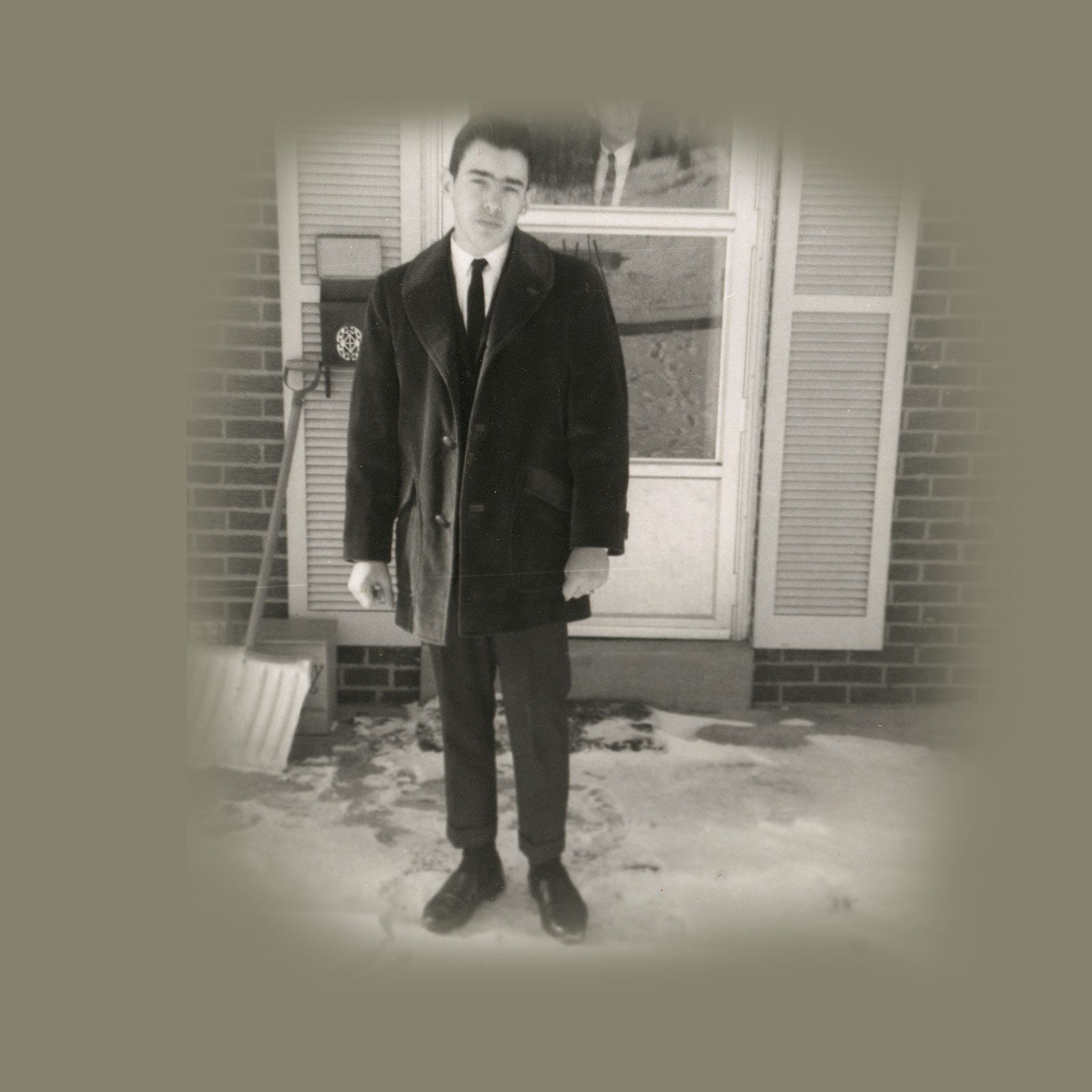 L-Stella / CL-Apollo / CR-Maria / R-Angeline on ship heading to Greece
MY GRANDMOTHER
A FAMILY JOURNEY
TO GREECE IN 1937


My mother's mother, Maria Emilianou Bouyoucas, was a Greek born in Turkey in 1902. In 1916, at not quite 14 years of age, she immigrated alone to the United States to live with relatives in Weirton, West Virginia. In 1917, at the age of 15 Maria married. Over the next twelve years, she bore 6 children. My mother, Angeline, her older sister Stella and her younger brother Apollo were three of Maria's six children.

In 1937 Stella developed a serious illness that doctors said required a healthier environment. Weirton was a steel town and its air quality was very unhealthy. Not knowing anyone in America who lived in a healthier climate, Maria and her husband, Tasso, felt it was best for her to go to Greece and stay with family to help Stella try to recover. Tasso, who worked at Weirton Steel, couldn't join them. It was decided that their 3 older boys would stay behind with their father. In late 1937 Maria, Angeline, Stella, and Apollo boarded a ship for Greece. Once in Greece they settled into a family home as Stella tried to recover. Sadly, Stella died within months of their arrival. Maria's grief was deep and she felt the need to stay a while in Greece surrounded by loving family.
August 15th 1940 explosion on the island of Tinos, Greece
WITNESSING
THE START OF
WWII IN GREECE
A RELIGIOUS PILGRIMAGE
IS CRUELLY ATTACKED

Maria, Angeline and Apollo had stayed in Greece for almost 3 years and the trip to Greece was winding down. WWII had not come to Greece yet. Things were tense, but life in Greece went on relatively unencumbered by the war through much of 1940. That changed on August 15th 1940, during a family excursion to the Greek island of Tinos to celebrate a traditional religious holiday. That day in Tinos started out wonderfully. It was a beautiful, sunny day. Maria, Angeline, Apollo and their cousin Stella were eating pastries at a café above the main harbor when their peace was shattered by a loud explosion. A torpedo fired from an Italian navy submarine had hit a Greek military warship in Tinos harbor (pictured). Maria and the children rushed to seek safety in the church halfway up the mountain. While others fled higher, they hid in the church until the danger passed. They returned home by military convoy. Two months later the Italians invaded Greece. Suddenly life was very uncertain. Maria, Angeline and Apollo were trapped in Greece and a return to America was impossible.
L-Maria / C-Norman / R-Angeline 1941
HARBORING
THE ENEMY
NORMAN / A LOVE STORY

Greece repelled the Italians as Great Britain came to Greece's aid, with British soldiers becoming a common sight in Athens. Germany entered the fray on April 1, 1941.

One day while on a walk in Athens near their home, Angeline and a girlfriend were passing an anti-aircraft battery when German bombing started. British anti-aircraft guns returned fire. A British soldier screamed to the two girls to get out of the street and take shelter in his foxhole. The soldier's name was Norman. Once the attack ended Norman asked the girls if they were alright. Sixteen year old Angeline and twenty-something year old Norman were drawn to each other immediately. A friendship developed which, in time, would evolve into something more. Germany quickly conquered Greece. Many British troops were trapped in Athens by May of 1941. After unsuccessful attempts by Norman to rejoin his unit and leave Greece, Angeline and her mother Maria offered him shelter. They hid him in their small apartment in Athens until February 1942.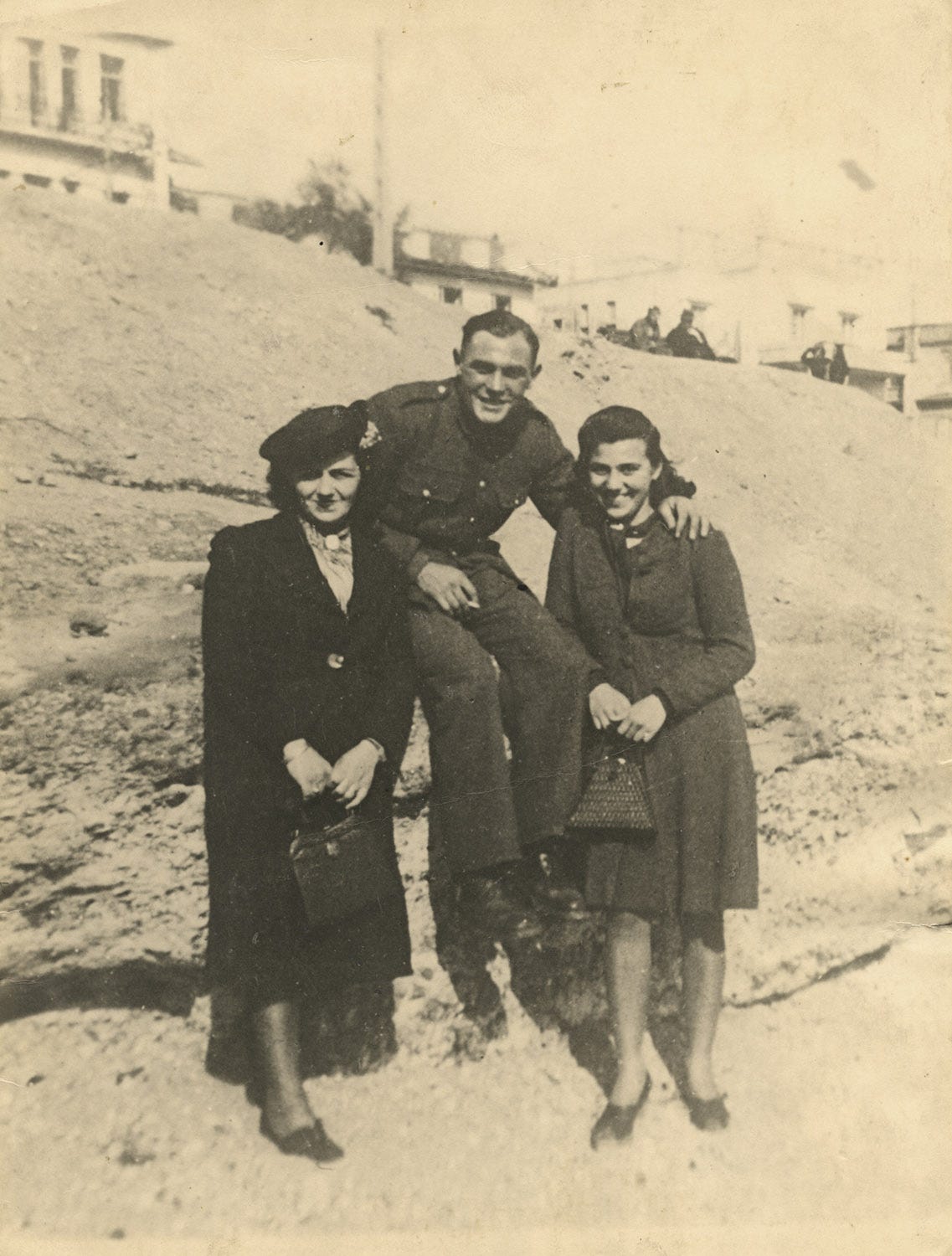 Haidari Prison
Nazi prison in Athens Greece
THE PRICE OF LOVE
IMPRISONMENT

Hiding a British soldier in enemy territory in a small apartment was destined not to last. It was a risky move that came to an end in February of 1942 when Norman was captured and arrested by the Italian police occupying Athens. Maria's and Angeline's arrests followed by the end of April. Apollo, Maria's son, went to stay with relatives. Maria and Angeline were convicted in June 1942 of aiding and abetting the enemy. Maria was sentenced to 5 years in prison and Angeline to 3 1/2 years. For 1 year, from April 1942 to April 1943, Maria and Angeline spent time in two different women's prisons in Greece. They were pardoned by the King of Italy at the end of April 1943 and returned home, reuniting with Apollo. For the next 9 months they tried to live a relatively normal life in occupied Greece while dealing with constant food shortages and other daily hardships. For money Angeline taught English. One day, in January 1944, there came a knock at the door. German SS officers had come to arrest Maria. Without any formal charges they took her to Merlin 6 in Athens for interrogation. Shortly thereafter Maria was taken to Haidari concentration camp outside of Athens.
L-Angeline / C-Apollo / R-Maria Circa 1939 or 1940
ANGELINE
ALONE
HER MOTHER REARRESTED
HER BROTHER SICK

In April of 1944 Apollo was diagnosed with leukemia. Though terrified at the prospect of approaching the Nazis at SS headquarters at Merlin 6, Angeline bravely tried to get permission for Maria to see her dying son. Her requests were refused. Undeterred, she decided to go straight to Haidari Prison to plead her case to the commander. She got no closer than a quarter mile from the gates when two shots rang out, the second one only a few inches from her ear. She fled, heartbroken that her brother would never see his mother again and that her mother would not know her son's fate. From this day on, until the end of the war, Angeline had no idea where her mother was being held or if her mother Maria was alive or dead. She was simply gone.
Maria in barracks at Leipzig work camp in Germany
THE PATH TO SLAVERY
MARIA IN NAZI GERMANY

RAVENSBRÜCK CONCENTRATION CAMP AND LEIPZIG WORK CAMP 1944-1945


The war was not going well for the Germans. Their armaments factories were short of workers. As a result, they began to gather and ship to Germany prisoners from occupied countries in order to staff the Nazi war machine. Maria, imprisoned in Haidari concentration camp in Athens, was not permitted to see either of her children, Angeline or Apollo. Then more bad news. She was shipped to Ravensbrück women's concentration camp in Germany in late May 1944.

At Ravensbrück Maria, like all prisoners, was subjected to a level of base dehumanization beyond anything she could have dreamed of in her coarsest imagination. Surviving the brutality of Ravensbrück, in late July 1944 she was transferred to Leipzig to work in a German munitions factory. Life was equally cruel at Leipzig. If any prisoner couldn't work, for any reason, they were killed by the Germans. In her barracks fifteen Greek women helped Maria cope by hiding her limitations. At 42 she was one of the oldest prisoners. Once, she got caught sabotaging munitions, an offense that was punishable by death. She was punished, but not killed, likely due to the Germans' urgent need for workers.

Then, in April of 1945, as the Russians were closing in from the east and the American and British forces were approaching from the west, the Germans quickly evacuated all the prisoners to march on foot out of the camp. No one, not even their German captors, knew where they were going, but what was known is that anyone who fell on this death march was immediately shot. On the third day of the march all the German guards disappeared. Maria, and others from the camp, spent the next four months wandering through Germany, doing what they could to survive. Maria eventually made her way back to Leipzig which was occupied by American forces. The Americans helped Maria get back to Italy and then to Greece in September of 1945.
L-Angeline / R-Lenny 1945
LIBERATION
& LOVE
ANGELINE WORKS WITH THE ALLIES
WHILE IN LOVE IN GREECE 1944-1945


Angeline did the best she could living in Nazi occupied Greece while her mother was imprisoned, teaching English to support herself. Then, on October 12, 1944 she woke to the sound of utter silence. The Germans had abandoned Athens. The war was over. Hundreds of thousands of people celebrated in the streets welcoming the British forces. Angeline was encouraged by friends to apply for a job as an interpreter with the British army. She was hired on the spot. Things were tense in Greece and the army needed help communicating between the internal Greek factions vying for power. These were difficult political times that made traveling in Athens, and in the country of Greece, dangerous. During this time she met a British soldier who became the next love of her life. She had spent so many years in Greece and she was confused about whether she should stay in Greece with Lenny or return to America. Fate intervened. In September 1945 Angeline's mother, Maria, made it home to Athens. The two of them embraced for the first time in 20 months. Shortly thereafter Maria and Angeline returned to Weirton, six years after the start of World War II in Europe. Their 6 year journey to freedom was complete.
Weirton West Virginia Newspaper October 20, 1947
RETURNING TO
AMERICA
BRITAIN RECOGNIZES
THE BRAVERY & HUMANITY
OF MARIA & ANGELINE


Home in Weirton Maria was back with her steelworker husband who had remained in America with their three sons. The two halves of the family had not seen each other for 8 years. Angeline, who was a twelve year old child when they left in 1937, came back a beautiful twenty year old woman. Angeline's three brothers had also changed during the war. Manual had become a priest, Ted had just returned from the South Pacific, and Nick was married and working at Weirton Steel. Life was getting back to a new normal as Maria resumed her role as a homemaker.

Sometimes when people make exceptional choices recognition follows from important places. For Maria Bouyoucas it was a certificate from Field Marshall H. R. Alexander, the Supreme Allied Commander of the British forces in the Mediterranean, sent as a token of his government's appreciation for the assistance she and her daughter had given to British forces, enabling one of their own to evade capture for almost a year by the enemy Italian and German forces. Heroes are born out of exceptional acts of moral courage by average people.
L-Angeline Spillias / C-Ken Spillias / R-George Spillias
WHAT LIFE
BECAME
POST-WAR IN AMERICA

After winning the war, democracy flourished in America. My mother, Angeline, was back in Weirton and spending a lot of time with a friend of her brothers, George Spillias. George, just back from the war in the South Pacific, and Angeline just back from Greece, both had gone through difficult life-changing experiences in WWII. They had much in common and a new romance back in their hometown in America was a welcomed change from the hardship of war. Angeline and George were married in July of 1947. In 1949 their first child, Ken Spillias (me), was born. WWII was now in the rear view mirror. For my family and the world, these were times for celebration and personal growth that led to many new families, new children, and a new concept of living in the American suburbs. Life had evolved past the horror of Nazism. Even so, my mother Angeline had nightmares about her captivity and the war, as well as a permanently trembling left hand, for the rest of her life.
THE LESSONS
FREEDOM IS NOT GUARANTEED

While my mother and grandmother became trapped in Greece with the outbreak of war in 1939-1940, the Greek community in Weirton was fighting another battle for the hearts and minds of the American people. In 1922, the American Hellenic Educational Progressive Association (AHEPA) was founded on the ideals of non-discrimination against Greek and other ethnic minorities. The ultimate goal was to extend the avowed American principles of equality and freedom to all who would call America home. With the rise of Naziism and Fascism in Europe, the importance of giving more than lip service to these foundational principles became a matter of survival—not only of people, but of democracy itself.
The United States played a pivotal—some would say the pivotal—role in defeating the Axis powers of Germany, Italy and Japan in a war that evolved into a battle between freedom and despotism. While the Axis powers sought a world ruled by power in the hands of a few, based largely on claims of racial and ethnic superiority, as most brazenly espoused and practiced by Adolf Hitler, the Allied powers were largely driven by the world's great democracies—among them the world's largest and most diverse democratic republic, the United States of America.
It has been over 75 years since the end of WWII. While the world, including the United States, has seen many wars and conflicts in that time, through it all America has been viewed by the world and its own people as the surest guarantor of the continued strength and power of freedom in the world, and of the principles of equality and democracy which assure such freedom. Yet, the Greatest Generation, as Tom Brokaw penned it, is fast disappearing. While Americans continue to honor their bravery and sacrifices that preserved our freedom, voices and purveyors of anger, hatred and divisiveness seem to be in the ascendant, at a level not seen in most of our lifetimes. Without a change in attitudes and direction, what most Americans have considered unthinkable can become our reality—the loss of a true democracy, and the resulting loss of our freedoms.
As my mother, grandmother and so many millions painfully learned during WWII, and in the years since, freedom is never guaranteed. It can be lost in the wink of an eye, and once lost, it is terribly difficult to regain. Those who choose to do what is right to promote freedom and democracy for all, no matter their personal peril in doing so, will form the foundation of keeping democracy alive. As it has for the decades since WWII, the freedom loving world continues to look to the United States for leadership. That's what it took to defeat the Axis powers in WWII. And it will take a similar commitment, dedication, love of country and of our country's democratic principles to navigate our way through the storms of discontent we are experiencing. That's what I learned from my soldier father who fought for those principles, and from my mother and grandmother who survived the loss of their freedoms in a part of the world where those principles had been crushed.
Ken Spillias
© Copyright 2022 Kenneth Spillias. All Rights Reserved.